The Tule British Brass Band currently has members from three counties and is the only ensemble of its kind in the San Joaquin Valley. The band plays approximayely six concerts a year in a variety of venues around the communites of Tulare, Visalia, Reedley and Kingsburg. The band also participates with other brass ensembles in the annual Brass Bash held each spring at Frenso City College.

Traditonal instrumentation would include the use of both B-flat and E-flat cornets, flugel horn, E-flat alto horn, baritones, euphoniums, trombones, E-flat and B-flat tubas, and percussion. The brass band plays a variety of literature consisting of marches, hymn tunes, classical excerpts, and contemporary pieces, The music has either been arranged for the ensemble or was written speicifically for the brass band.

Competition is an important part of the brass band tradition. Each band in any one category is required to play one selection that is the same for all bands in that category. These pieces are very challenging and test the skill level of all band members from first chair players all the way to the back of every section. Some of the test pieces this band has performed include: The Four Cities Symphony, The Petitie Suite de Ballet, and LIttle Suite for Brass. This year the band will begin work on Images by Stephen Bulla as this year's test piece.

The band is currently under the direction of Mr. Eric Farrenkopf. Our concerts are free and open to the public. We hope that you will be able to attend an upcoming performance.

Looking forward to seeing you,

The Tule British Brass Band.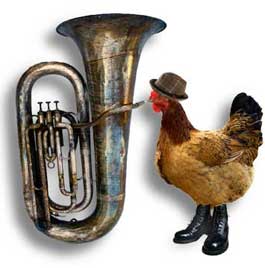 The Tule British Brass Band is a community ensemble with traditional British brass band instrumentation. Founded in the spring of 1996 by a number of music educators, the band was created as an avenue to continue a brass band tradition that began at CSU Fresno some years before under the direction of Dr. Ritchie Clendenin. Originally known as the Visalia Community Brass Band, the Tule British Brass Band gave their debut concert at the First Baptist Church of Visalia in 1996. Featured soloists were Dr. Ritchie Clendenin and Mr. Jim Kusserow. Since that first concert the band has continued to perform throughout Central California.